League Dates
SCHOOL LEAGUE – Spring 2020

REGISTRATION PERIOD
January 31st – March 6th
REGULAR SEASON STARTS
March 13th & 14th
DIVISION LOCK DATE
March 24th
PLAYOFFS
May 8th – May 16th
Game Format
Games are Three 15-minute periods

There is a 30-second intermission between periods.

The clock will stop in the last minute of the third period if the score is within one goal

If the game is tied after regulation, teams will play 3 on 3 for 3:00.  If tied after 3:00, 4 person shootout will commence

Stats and schedules are kept in the DASH system.
Team Packet
At the time your deposit is made, a team representative will be emailed a team packet that includes our code of conduct forms, roster form, proof of attendance forms, and a copy of the league rules.
Team Structure/Rosters
Each team roster will consist of 16 total slots.  These spots may be filled in any manner you see fit.  The total number of players on your roster (skaters, goalies, and back up goalies) must be 16 or less.  Players that are on two (2) different rosters must only play one position for each team (cannot be a starting goaltender on more than one team, and cannot skate out for more than one team).
Game days/times
Games may be scheduled at during the following times:
Fridays 6:15 pm – 10:15 pm
Saturdays 3pm – 10pm
Sundays 9am – 5pm
Our goal is to keep as regular of a schedule as possible but game times may need to be changed due to other events or schedule conflicts.
Practice times
Practices time are available for rent. Please contact Robert Herbst directly for more information.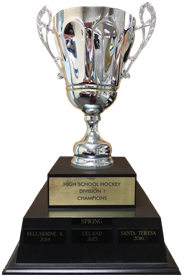 Membership Requirement
All participants must be Silver Creek Sportsplex members. Click here for membership details.
If your membership expiration date is before the end of the new season, renewal will be required at the time of league fee payment.
Required Equipment
Equipment may be rented as needed, including a very affordable season rental option.
H.E.C.C. Approved helmet with full face cage

Mouthguard

Chin strap

Elbow pads

Knee/shin pads

Gloves

Stick (No BLACK TAPE)

Skates (No brakes allowed)

Athletic cup/pelvic protector recommended
School Hockey Rules of Conduct
Scholastic athletic competition should be fun. It should demonstrate high standards of ethics and sportsmanship and promote the development of good character and other important life skills. The highest potential of sports is achieved when participants are committed to pursuing victory with honor, through the core values of integrity, respect, responsibility, fairness, and good citizenship. Everyone involved in sports programs has a duty to assure that their programs impart important life skills and promote the development of good character. The highest potential of sports is achieved when all involved consciously teach, enforce, and embody these values and are committed to the idea of pursuing victory with honor. Parents/guardians, coaches, and the student-athletes themselves each play an important role in the sports experience.
These codes of conduct apply to all student-athletes, coaches, and parent/guardians involved in high school sports at Silver Creek Sportsplex. Download, print, and sign your code of conduct document and bring it to the check-in desk on your next visit.
Code of conduct – Students/Athletes
Code of conduct – Parents
Code of conduct – Coaches
Supplemental High School Hockey Rules
Thank you for your commitment!