TEAM BUILDING & CORPORATE EVENTS
Fun for all ages!
MAKE SILVER CREEK SPORTSPLEX YOUR DESTINATION FOR TEAM BUILDING & HOLIDAY EVENTS!
Looking for a fun, active corporate outing? You've found it! Silver Creek Sportsplex is the Bay Area's destination for a fun and competitive team bonding day in a truly unique, state-of-the-art venue.
From small businesses to large corporations, Silver Creek Sportsplex provides Team Building activities to companies throughout the Bay Area: Cisco, Comcast, IBM, IDT, Apple, Santa Clara Parks & Recreation, VMware and many others. We stand ready to welcome YOU to our exciting complex.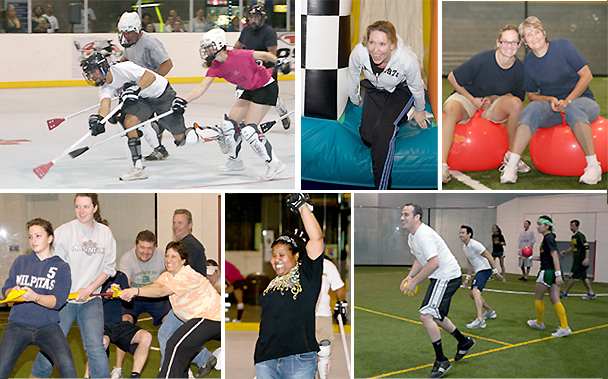 We have state-of-the-art amenities and expert staff!
Capacity for groups of 20 to 5000

Three indoor turf fields

Three multi-sport, multi-purpose rinks

Adult-sized, custom designed inflatable obstacle courses
Dynamic coaching staff to organize/referee your tournament and/or teach skills

Banquet rooms and breakout rooms

All the equipment you need: balls, skates, flags for flag football, ropes for tug of war, and more!
Free high bandwith wireless internet

A/V equipment
Available Team Building Activities
Game on! From a friendly game of badminton to a dodgeball tournament, we offer a huge variety of team sports. Let us run a tournament for you, or set up stations throughout the facility for an exciting rotation through a variety of games. Based on the number of people and length of time desired, we'll help you build the perfect event!  Kick it up a notch! Wear team tshirts or jerseys, and bring team banners to show your spirit!
Available activities include: Dodgeball, Soccer, Bubble Soccer, Flag Football, Broomball, Floor Hockey, Roller Hockey, Human Hungry Hippos, Volleyball, Badminton, Inflatable Obstacle Courses, Ultimate Frisbee, Field Games (Tug of War, Hippity Hops, Relay Races)
90 minutes – 4 hours
Cost: $1499 for the first 20 participants; $40 for each additional participant
Soccer just got crazy fun! Enjoy a game of soccer without goalies while all players wear a bubble ball!
This is full contact soccer while wearing a bubble! Inflatable Bubble Soccer players can run into each other, knock each other over, roll, bounce and flip. Players will try their best to score while being bumped and knocked by their opponents. Teams can challenge each other to face off at the end in Sumo or Knock Out to determine the champion. It is safe and fun for everyone.
60-90 minutes
Cost: $799 for the first 20 participants; $25 for each additional participant
Archery Tag combines the ancient skill of bow and arrow with the fast-paced gameplay of tag. Using specially designed arrows—which have soft, foam tips—players dash about an open field, launching their assault or diving behind obstacles to avoid frenemy salvos. The physically engaging, family-friendly game is safe for kids of all ages, ensuring no pain, welts, or bruising. In fact, the only safety equipment required is a face mask. Basic games pit two teams of five against one another. The objective is to knock down the opposing team's targets while avoiding being "tagged" out by incoming arrows.
60-120 minutes
Cost: $799 for the first 20 participants; $25 each additional participant plus $150/hr for additional equipment
You and your team will participate in a variety of challenges and compete against each other and the clock for prizes, bragging rights, or just for fun! Some challenges are cerebral, others are more physical, but all are fun and take teamwork to complete.  Customized GPS Technology and experienced organizational development facilitators will guide you through a Scavenger Hunt unlike any other…indoors or out, we have your map to fun and team building success!
90-120 minutes
Cost: $1999 for the first 25 participants; $40 for each additional participant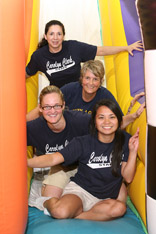 Your teams will enjoy participating in an OPENING CEREMONY, OLYMPIC STYLE COMPETITIONS, and a MEDAL CEREMONY.  Write your "national anthem," participate in a Parade of Nations, and Light the Torch to kick off the competition. When the Games begin, we have over 100 varieties of customized stations to choose from including Nerf Gun Biathlon, Screaming Slingshot Challenge, Pipeline, Buddy Walkers, and more.  The top 3 teams will receive medals in a closing ceremony that is equal parts hilarious and celebratory!
90-120 minutes
Cost: $1999 for the first 25 participants; $40 for each additional participant
This a fantastic indoor program for teams who love puzzles, mysteries, and aren't looking for a more physical program.  The Mobile Team Escape program facilitator splits your group into smaller teams and provides a challenging set of activities to break codes, open safes and treasure chests, and ultimately escape the room (or rooms, depending on our available space).
TeamBuilding ROI will craft a customized backstory and provide actors to play characters who will entertain and assist your guests.  Each problem solved moves the teams closer to cracking a series of locks that will take you from one challenge to the next.  Whether you have a series of rooms or just one, we can create a unique escape program plan to fit your needs.  And unlike many Escape Rooms, many teams can play at the same time, whether as a competitive event or higher level organizational development activity.
90-120 minutes
‪Cost: $2499 for the first 15 participants; $50 each additional participant
Build some bicycles while you build your team! The goal is to be the first team to complete your bike. Your team will start with just a frame, and you will compete in some mini-team building challenges to win the other components including handle bars, cranks, pedals, wheels, chain, grips, forks, and decorative extras. You can then present your completed bikes to the charity of your choice at the end of the event. This is a fun, rewarding, and competitive way for your team to give back to your community!
60-90 minutes
Cost: $2999 for the first 25 guests (includes 4 bikes), $40 for each additional participant
Based on the popular television game show Minute to Win It© (check it out on YouTube!), 60 SECONDS TO SUCCESS is a high-pressure, super-fun, wacky way to let loose and bond with teammates in the name of silliness and team building! Your MC/Facilitator will guide you through the game's different activities, all which take less that a minute to accomplish. Some popular activities include Broomski Ball, Name That (Water Glass) Tune, Tilt-A-Cup, and Frankenstein…and every team member must be successful within the 60 seconds allowed for each activity.
75 minutes
Cost: $1999 for the first 25 participants; $40 for each additional participant
Organizational Development Add-On – Only available for Team Olympics, The Hunt, Build a Bike Challenge and 60 Seconds To Success
Reflecting on your team building program is an invaluable method to ensure that your team gets maximum value from your program.  Pre-event, you will work with our Organizational Development experts to lay out your program's objectives.  We will then customize your experience to make sure that we address those objectives, and the Debrief will give us a chance to "dive in" to the issues.
Whether we are addressing Communication, Leadership, Creativity, or internal changes like Growth, Retention, etc., we will tie your program together with takeaways that will help your team deal with issues back at the workplace.
30-60 minutes
Cost: $700 (unlimited number of participants)
Organizational Development Add-On
The key to becoming a successful leader is to know how to be heard, and the key to being heard is to speak a language your listeners understand. Once you understand how you communicate then you will be able to listen to verbal cues and match communication styles and become effective in communication style flexibility.
A perfect accompaniment for any experiential team building program, the Communication Style Inventory will teach you what kind of communicator you and your teammates are (Action, People, Process or Idea).  When coupled with our experiential learning programs, your team will experience first-hand how communication styles may change when you are in a stressful situation.
45 – 60 minute debrief + a little pre-work
Cost: $700 for the first 25 participants, $20 for each additional participant
More Information About Our Team Building & Events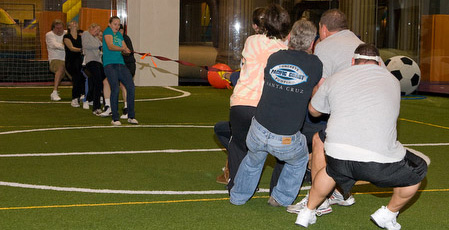 Ready to book your next event?
To book your next team building or corporate event, or for more information, a quote, a tour, or to find out how we can meet your event needs, please contact us at 408-225-1843 ext. 161 or send us an email at [email protected]